Emily Dawn Amos
Emily Dawn Amos is a young organist whose passion for music has taken her across the nation and beyond. She started studying organ at age eight, and a year later was the youngest person ever admitted into the Pipe Organ Encounters program of the American Guild of Organists (AGO). Since then, she has attended a total of 20 summer intensives, including the Curtis-Wanamaker Organ Institute, Oberlin Organ Academy, Eastman Summer Organ Academy, Baylor Organ Summer Institute, and Jacobs School of Music Organ Academy. Ms. Amos currently works at Church of the Good Shepherd in Rosemont, Pa. and is an assistant organist at the Wanamaker Grand Court at Macy's. Previous positions include assistant organist at both St. Rita Catholic Church in Alexandria, La. and St. Francis Catholic Church in Traverse City, Mich.; and organ scholar at St. Paul's Episcopal Church in Chestnut Hill, Pa. She has participated in masterclasses with professors such as James David Christie, Daniel Roth, Alan Morrison, and Johann Vexo. In her travels, Ms. Amos has had the opportunity to play organs such as those at Longwood Gardens, St. Bartholomew's and St. Patrick's in New York, King's Chapel in Boston, and Verizon Hall in Philadelphia. Ms. Amos won the 2015 and 2016 Young Artists Competition on NPR (Red River Radio). She also won third place, audience prize, and the hymn prize at the 2018 Albert Schweitzer Organ Festival and second place at the AGO Quimby Regional Competition (Grand Rapids Chapter). Ms. Amos studied with Mr. Scott Dettra as her primary organ teacher from 2015 to 2017, attended the Interlochen Arts Academy from 2017 to 2019, and is currently attending the Curtis Institute of Music in Philadelphia, where she studies with Alan Morrison. At Curtis, Ms. Amos holds the Stephanie Yen-Mun Liem Azar Fellowship.
Alexander Leonardi
A native of Long Island, N.Y., Alexander Leonardi is entering his third year studying organ performance with Alan Morrison at the Curtis Institute of Music, where he holds the Dr. Mi-Wha Lee Fellowship. Prior to attending Curtis, he was part of the Pre-College Division of The Juilliard School, studying with Dr. Matthew Lewis.
Over his years of study Mr. Leonardi has participated in numerous programs, including the organ and piano institutes at Westminster Choir College and the Curtis-Wanamaker Organ Institute. He has participated in several competitions, including the annual International Organ Competition at the Wells School of Music at West Chester University where he won first prize, and the 2020 Brooklyn American Guild of Organists competition where he won second prize. Mr. Leonardi was also the recipient of the award for music theory and ear training at The Juilliard School's Pre-College Division. He currently serves as the Michael Stairs Organ Scholar at the Church of the Redeemer in Bryn Mawr, Pa. He is also interested in a wide variety of musical ventures, including conducting, composition, and improvisation and has a deep passion for chamber music and other forms of collaborative music-making.
Isabella Isza Wu
Originally from Madison, Wis., Isabella Isza Wu is an emerging organist and pianist. She is currently a student at the Curtis Institute of Music in Philadelphia, where she holds the Charles and Judith Freyer Annual Fellowship and is pursuing a master's degree in organ performance under Alan Morrison. Ms. Wu recently completed her bachelor's degree in piano performance at Northwestern University, where she also completed an ad hoc major in sacred music. 
A latecomer to the organ, Ms. Wu began organ studies while at Northwestern University, studying first with Margaret Kemper, and then with Brian Schoettler and Phillip Kloeckner. As an organist, she has performed in numerous recitals at Northwestern's Alice Millar Chapel, St. Luke's Episcopal Church in Evanston, and First Congregational Church of Beloit, Wis. Ms. Wu has attended the Oregon Bach Festival and Oberlin Organ Institute, and has also performed in masterclasses held by Paul Jacobs, Wolfgang Rubsam, Christa Rakich, and Katelyn Emerson. As a pianist, Ms. Wu has performed solos with several orchestras, including the Madison Symphony Orchestra and the Wisconsin Chamber Orchestra on Wisconsin Capitol Square.
During her time at Northwestern, Ms. Wu sang with the Alice Millar Chapel Choir under the direction of Stephen Alltop and programmed organ series events for the Northwestern community. Passionate about forming connections through music, Ms. Wu has held numerous administrative and education internships, most notably with the People's Music School in Chicago and Madison Symphony Orchestra's award-winning education programs. Her six years of teaching experience include private teaching in piano, violin, percussion, voice, and with students with special needs.
Ms. Wu previously held the positions of music intern at First United Methodist Church of Evanston and organist at Second Church of Christ, Scientist in Evanston. She received her colleague certification from the American Guild of Organists (AGO), recently completed a term on the Northshore AGO board, and currently serves as organ scholar at St. Mark's Episcopal Church in Philadelphia.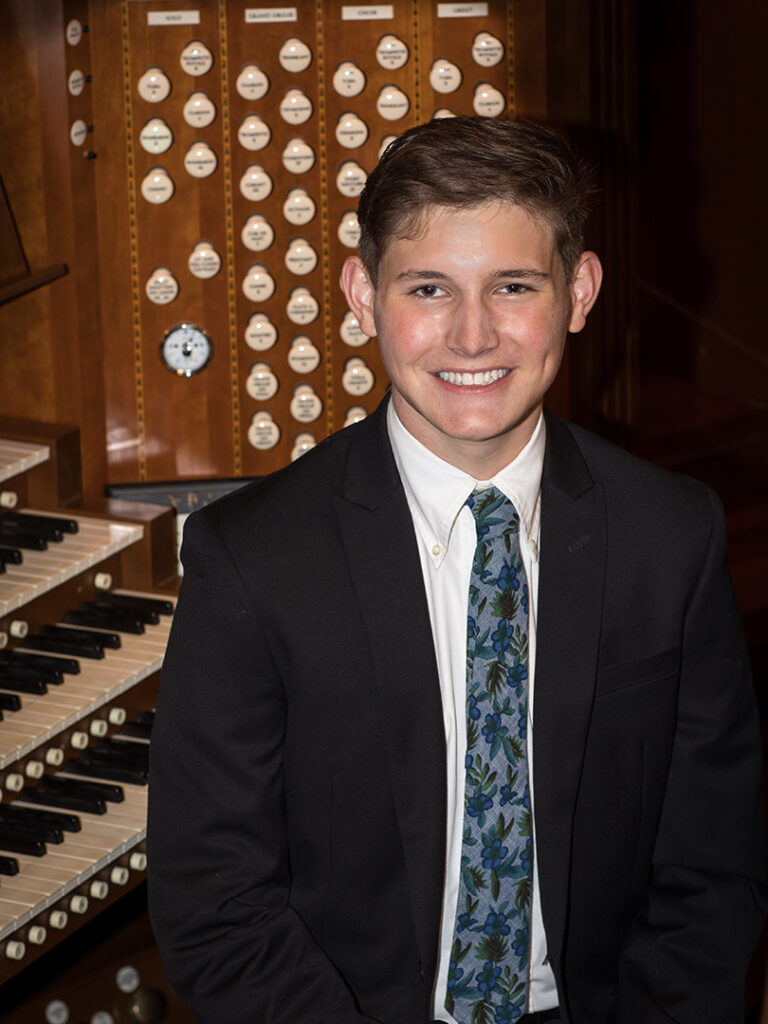 Oak Martin
Oak Martin is a student of Alan Morrison at the Curtis Institute of Music in Philadelphia where he holds the Mrs. Cary William Bok Fellowship, and is also an organ scholar at St. Thomas, Whitemarsh in Fort Washington, Pa., under Michael Smith. In his capacity at St. Thomas, he assists in service playing, accompanying, chorister training, and program administration. Previous positions include assistant organist, and later, acting associate organist at Peachtree Road United Methodist Church in Atlanta where he studied with and worked under Scott Atchison, organ scholar at St. Bartholomew's Episcopal Church in Atlanta under Shannon Gallier, and organ scholar at St. Mark's Episcopal Church in Philadelphia under Robert McCormick. In 2019 he graduated from the Interlochen Arts Academy where he studied organ with Tom Bara, voice with Dr. John Bragle, and received a fine arts award in organ performance.
As a concert artist, he has performed on the programs of St. Philip's Cathedral in Atlanta, Peachtree Road United Methodist Church, Interlochen Center for the Arts, Girard College, and numerous performances for various American Guild of Organists functions. He has accompanied numerous ensembles, instrumentalists, and choral festivals. During his free time, he enjoys traveling and gardening.